Cody Wilson, like many Texan gunsmiths, is fast-talkin' and fast-shootin'—but unlike his predecessors in the Lone Star State, he's got 3D printing technology to help him with his craft.
Wilson's nonprofit organization, Defense Distributed, released a video this week showing a gun firing off over 600 rounds—illustrating what is likely to be the first wave of semi-automatic and automatic weapons produced by the additive manufacturing process.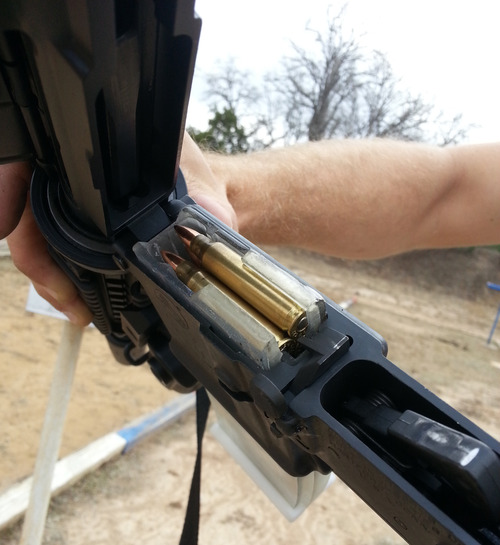 Last year, his group famously demonstrated that it could use a 3D-printed "lower" for an AR-15 semi-automatic rifle—but the gun failed after six rounds. Now, after some re-tooling, Defense Distributed has shown that it has fixed the design flaws and a gun using its lower can seemingly fire for quite a while. (The AR-15 is the civilian version of the military M16 rifle.)
The lower, or "lower receiver" part of a firearm, is the crucial part that contains all of the gun's operating parts, including the trigger group and the magazine port. (Under American law, the lower is what's defined as the firearm itself.) The AR is designed to be modular, meaning it can receive different types of "uppers" (barrels) as well as different-sized magazines.
"This is the first publicly printed AR lower demonstrated to withstand a large volume of .223 without structural degradation or failure," Wilson wrote on Wednesday. "The actual count was 660+ on day 1 with the SLA lower. The test ended when we ran out of ammunition, but this lower could easily withstand 1,000 rounds."
Already, he says, over 10,000 people have downloaded the lower CAD file, and more have downloaded it through BitTorrent.
Cody R Wilson has figured out how to print a semi-automatic rifle from the comfort of his own home. Now he's putting all the information online so that others will join him.
—
This is a story about the rapid evolution of a technology that has forced the American legal system to play catch up. Cody Wilson, a 25 year old University of Texas Law student, is an advocate for the open source production of firearms using 3D printing technology. This makes him a highly controversial figure on both sides of the gun control issue. MOTHERBOARD sat down with Cody in Austin, Texas to talk about the constitution, the legal system, and to watch him make and test-fire a 3D-printed gun.
Check out our podcast with Cody here: http://bit.ly/VICE-Podcast-Cody-Wilson
Produced By Erin Lee Carr
Edited by Chris O'Coin
Read more on MOTHERBOARD here:http://motherboard.vice.com/read/clic…
To find out more about what the ATF says about 3D-printed guns, read this: http://motherboard.vice.com/blog/the-…
Music Credits:
"Darkness IV," "Nights" — Matt Scholey
"Metronome" — Machew
"Stillpoint" — Orphx (Richard Oddie and Christina Sealey)
"Lost Again" — Orphx
"Apparition" — Orphx
"The Leaves Had a Voice" — The Supercomputer Six Thousand
"Spaces 3" — Jon Cooper
"Extreme Prejudice" — Andromeda Dreaming
"Dreaming in the Face of Disaster" — Deadhorse
"Hearts of Glass" — Brightspark!